News
Dan Mumm Releases New Original Song and Video "Omega" (August 2016)
Dan Mumm has released his second original song and music video in his new series of original music for 2016.  The video was shot, edited and produced by Maxxxwell Carlisle of Hellion and Raptor Command.
Dan Mumm Releases New Original Song and Video "Lo" (June 2016)
Dan Mumm has released his first original song and music video in a new series of music he's working on for 2016.
Dan Mumm Releases Official Music Video for "Synchronicity" (May 2016)
Dan Mumm releases the first official music video from his new album "Peering Through the Lens of Time."  This epic video was shot, edited and produced by the very talented Maxxxwell Carlisle – best known as the guitarist for Hellion and Raptor Command.
Dan Mumm Releases New Album "Peering Through the Lens of Time" (Nov 2015)
After a full year of recording and production, Dan Mumm's new album is finally finished and available to the public.  "Peering Through the Lens of Time" contains 15 tracks that include 12 brand new never-before-heard original compositions.  The album was written, recorded and produced with a painstaking attention to detail and does not contain a single filler song.  Music videos will follow in the near future.
Get the album here: "Peering Through the Lens of Time"
Dan Mumm Joins the DV Mark Team (October 2015)
Dan Mumm is proud to now be a part of the DV Mark team, endorsing DV Mark and their famous Multiamp guitar amp.  http://www.dvmark.it/?/artists/135/dan_mumm

Dan Mumm Releases The Vivaldi Collection (May 18th 2015)
For a limited time, Dan Mumm is offering a collection of all of his Metal Vivaldi arrangements, their accompanying tabs and backing tracks.  The package includes 8 songs, 8 complete tabs in PDF and Guitar Pro 6 formats and 8 complete backing tracks.  For a limited time, this package can be downloaded for less than the cost of the songs themselves.  For more information or to get a copy of the Vivaldi Collection, click here.
*Kickstarter Project Successfully Funded* (November 10th 2014)
Dan Mumm's Kickstarter project "Peering Through the Lens of Time: Dan Mumm's 2nd Studio Album" has been successfully funded.  Dan has already begun the preliminary stages of working on the new album and working out material and compositions.  Dan is currently  scheduled to begin recording next month.
Dan Mumm Releases New Lessons through Metal Method (Nov 5th 2014)
Dan's new program "Classical Masterpieces for Metal Guitar" teaches excerpts of popular Classical pieces arranged for Metal lead guitar.  Dan's goal with this program is to give guitarists enjoyable and addictive tools to help them break down mental boundaries in their playing and practice and increase their overall lead guitar skill.  The program is geared toward intermediate players, but will also prove highly effective and enjoyable for even the most advanced of players.

Get the program- Order Now
 Dan Mumm Launches Kickstarter Project for 2nd Studio Album (Oct 11th 2014)
Dan Mumm now needs your help to create his second full length studio album.  An ambitious project – Dan will attempt his best musical work yet, drawing influence from across the ages.   
Dan Mumm Reaches 2 Million Views and 10k Subscribers on his YouTube Channel (Aug 20th 2014)
Dan Mumm's YouTube channel (DanMummSolo) reached two major milestones on August 20th 2014.  Within the same 24 hour period his overall views surpassed 2 million and his channel's subscribers broke 10,000.
Dan Mumm Releases New Videos for Summer 2014
Dan Mumm Releases New Videos for Early 2014
Dan Mumm becomes Dean Markley Artist. (March 12, 2014)

Dan is excited to now be a part of the Dean Markley team.   Dan has been a big fan of Dean Markley's NickelSteel Electric™  strings for years.  "Dean Markley's nickel plated strings are just the best.  They sound amazing and simply feel right to me." – Dan Mumm
Dan Introduces You Rock Guitar's New "Radius" Neck (March 12, 2014)
 The new video from You Rock Guitar has been released to promote the new accessory to their line.  The "Radius" neck adds a new level of ease of play and a familiar feel to an already user-friendly midi guitar.  Dan Mumm explains some of the features of the new neck and offers a demonstration by playing excerpts from his set list.
Dan Releases New EP "No Illusions" (August 2013)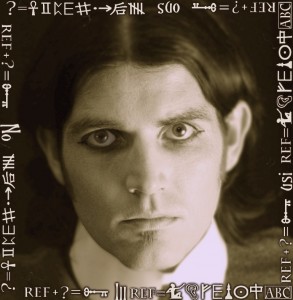 Dan's latest EP is now available.  This is the culmination of all the work Dan has done so far in 2013 -including roughly all of the Classical arrangements he has done since the beginning of the year.   To get your digital copy of the album go HERE.
Track list:
1. Concerto in A-minor (Vivaldi)
2. Ein Kleine Nachtmusik (Mozart)
3. Concerto in A-minor (Bach)
4. La Poule (Rameau)
5. Prelude in C#-minor (Rachmaninoff)
6. Maple Leaf Rag (Joplin)
7. Moonlight Sonata 3rd Movement (Beethoven)
Complete TAB book for the album "A Glimpse Beyond" is now available! (August 2013)
The TAB book includes the TABS and notation for the lead guitar of all 12 tracks on 'A Glimpse Beyond', including "Toccata And Fugue in D-minor" and the guitar version of "Anthem Of The Mad" in a PDF book as well as 12 Guitar Pro files – one for each song.  To get the 'Backing Tracks' of the album as well, go to the TABS section of this site.
Get your copy HERE
Dan Mumm Opens For Legendary Guitarist Michael Angelo Batio (April 2013)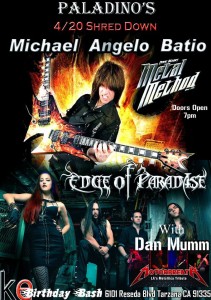 Dan Mumm Releases His Full Length Studio Album: A Glimpse Beyond (December 2012)
Thanks to the support of fans, Dan Mumm's debut studio album was funded, recorded, mixed, mastered and released! The new recordings of Dan's original tracks, including his brand new single "Glass Alice", are brought to life in an epic way.  The mixes are hard hitting, clear, heavy and pristine.   Each track was painstakingly recorded, mixed and mastered, and the immense effort that went into the production shines through in every one of the 12 tracks.   The new album 
A Glimpse Beyond 
is now available for purchase through
Metal Method
, which includes the album in mp3 format, the cover and back cover artwork, plus high quality WAV files of the album for burning to CD.  The album is also available at
iTunes
,
CDBaby
,
Amazon.com
, and most major digital distribution sites worldwide.
New Song And Music Video From Album: A Glimpse Beyond – "Glass Alice"
Dan Mumm Recording His Solo Debut Album (September 2012)
After successfully running a Kickstarter campaign to fund Dan's solo debut album, Dan is now in the studio recording the full length feature. The album will include a mix of Dan's original songs and his interpretations of popular Classical pieces, such as Hungarian Rhapsody No. 2, and Toccata And Fugue in Dm. The album will also feature three brand new originals by Dan. Below is a video for one of the new songs that will be on the album. This video is a teaser for the album, and is not the final recording/mix that will be on the album. The album's release is currently set for late October 2012.
New Video: Toccata And Fugue In D minor (March 2012)
You Rock Guitar sent Dan Mumm to perform on their midi guitar at the 2012 Frankfurt Musikmesse. Below is a video of one of the performances.
New Video: Toccata And Fugue In D minor (March 1st 2012)
More Fugue than Toccata in my new arrangement of J.S. Bach's masterpiece Toccata and Fugue in D minor. I did my best to keep all of the counterpoint in tact, while still allowing a main melody line to emerge as the "lead guitar" part. My favorite piece of music since I can remember and I've always wanted to make my own rock or metal arrangement of it, but wanted to make sure I could do it justice (hence why I've waited all of these years to make it). it was extremely challenging but fun and rewarding to make.
New Video: Quoth The Looming Dusk (January 9th 2012)
I just completed a new song entitled "Quoth The Looming Dusk". This song is a heavy hitting but highly melodic neo-classical piece.
New Video: They Were As Stone (December 2nd 2011)
Here is the music video for my recent composition "They Were As Stone". This is an experimental song bringing together elements of a few different genres including Progressive Rock, Jazz, and multiple sub-genres of Metal.
Dan Mumm heads to Shanghai, China to perform and demonstrate the You Rock Guitar at the Music China 2011 Trade Show – Press Release:
Makers of Innovative New Guitar Send Sacramento Area Guitarist
to China
ROSEVILLE, CA – Local guitarist and composer Dan Mumm is heading to Shanghai
October 9 to introduce and demonstrate the "You Rock Guitar" to crowds at the Music
China 2011 Trade Show. Performing both his original music and his virtuoso electric
guitar arrangements of Classical Music, Mumm will showcase the potential and
versatility of this new midi synthesizer guitar.
Mumm, discovered through his performances on YouTube.com by music impresario
Doug Marks, authors a series of advanced instructional guitar DVD's for Marks' Metal
Method label. His association with Inspired Instruments, the makers of the You Rock
Guitar, began when Dan contacted the company about testing and reviewing their new
instrument: a digital guitar that looks like a regular guitar but has a unique fretboard
with no real strings that bridges the gap between the music and gaming industries.
Impressed by the video he made with the You Rock Guitar, performing one of his
original compositions, company president Cliff Elion hired Dan to create more videos
demonstrating the instrument. Now the company wants him to be its musical ambassador
to China with a number of such appearances in the works.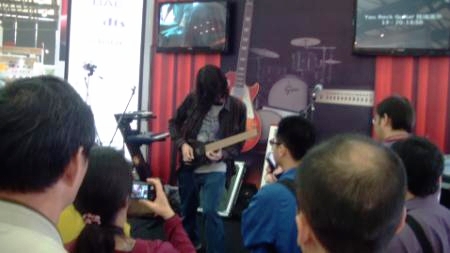 Music China, an international trade fair for musical instruments and services has been
called Asia Pacific's number one music industry event. More than 1,300 exhibitors from
29 countries are expected at this year's 10th Anniversary Show, running from October 11
through October 14 at the Shanghai New International Expo Centre in Shanghai, China.
Last year, nearly 50,000 visitors from 96 countries were in attendance.
Mumm, whose compositions are available on iTunes and whose playing can be viewed
on http://www.youtube.com/danmummsolo, has never been to Asia and called the trip
a "great opportunity."
"I've always wanted to visit Asia," he said, "now if I could just learn Chinese in a couple
of weeks!"
Even so, he doesn't believe he'll have much trouble communicating.
"After all," Mumm said, "music is a universal language."
New Video: Hungarian Rhapsody (September 26th 2011)
Here's my latest video. It's my own new arrangement of Franz Liszt's masterpiece Hungarian Rhapsody No. 2
This arrangement takes a walk on the metal side of things.
New Song And Video: Anthem Of The Mad (September 4th 2011)
A Glimpse Beyond Shred Guitar – From Metal Method (July 28th 2011)
Now you can learn my original song "A Glimpse Beyond" with my new instructional video series from Metal Method:
"A Glimpse Beyond Shred Guitar" Part 1 of 3 was released in July and is now available for digital download from
MetalMethod.com. This program goes in depth into the techniques found
within "A Glimpse Beyond" including pitch-perfect bending, shred technique and arpeggios. Check out the video
below for more information.
Dan's Latest Song And Music Video (June 15th 2011)
I just finished producing the Official Music Video for my original single "A Glimpse Beyond".
"A Glimpse Beyond" is now available on CDBaby.com, and will be available very soon on
iTunes, Amazon.com and other digital retailers. You can purchase the track at CDBaby.com
by using the store to the right. Or check back with your favorite digital retailer soon.
Check out the new video below.
Dan Mumm's New Monthly Lessons From Metal Method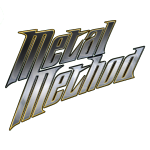 I am currently working with Metal Method to produce a monthly video lesson series. These video lessons will be around 20 minutes long and will be sold at first as digital downloads from MetalMethod.com There is talk that after a select number are completed, they will be compiled and sold as a DVD.
The first 4 segments of these lessons will center around teaching my new song "A Glimpse Beyond". Each segment will include information on applicable music theory, intermediate to advanced guitar techniques, exercises and warm-ups tailor made to be used for learning the lead parts to "A Glimpse Beyond", practicing tricks and secrets, as well as much more. "A Glimpse Beyond" includes such techniques as bends, hammer-on and pull-off techniques, slides, shred, sweep picking, and finger tapping. The first of these lessons will be made available this Summer (2011) so stay tuned!
Dan Mumm and the You Rock Guitar (May 24th 2011)

Recently I received a You Rock Guitar from Inspired Instruments to demo. The You Rock Guitar is a highly versatile and affordable midi/synth guitar. My first video using the You Rock Guitar is a version of my original composition "A Glimpse Beyond". This video can be viewed below.
It's also been featured on YouRockGuitar.com